Welcome to mashupforms.com
Mashupforms.com is the leading website for learning how to add online forms to your enterprise mashups.
What is a mashup?
A mashup is a web-based application that combines data from more than one source into a single integrated tool. Mashups are also referred to as situational applications.
What is a mashupform?
A mashupform is an electronic form that is embedded into a mashup for the purpose of data pre-population and or data collection.
Why are people using mashupforms?
Tech savvy managers want to implement solutions without waiting for IT.
Mashups allow organizations to create applications they could not afford to build using other technology.
Web 2.0 technologies are providing a canvas to rapidly create mashups.
Major technology companies like IBM, Google and Yahoo are creating rapid mashup tools that could be enhanced by adding electronic forms.
Services like FormRouter are creating mashup tools to make online forms easy to create, host and retrieve.
How To Build PDF Forms In Adobe Acrobat (2 of 14)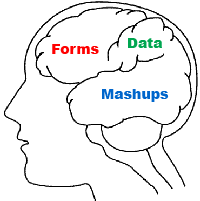 The modern human is now ready to make and consume his own forms. He needs FormRouter.
Call Today: 919-469-1984